Monday, June 4, 2018 / by Cindy Hurley
Who Knew?

When you're getting ready to list your home, the general mindset is to get it on the market as quickly as possible, so that it will sell as quickly as possible. This may not be the best plan of attack according to Redfin's Data Driven Selling Tips. Read more below.


What's The Best Day to Put My House on the Market?
Thursday. Homes that hit the market Thursday typically sell faster and for more money, with more than one in five getting above asking price. Homes listed on Thursdays in April do even better, with one in four going for above asking price.



Wednesday's Price Advantage
Homes listed on Wednesday had an advantage of $2,023 in sale price over homes listed on a Sunday, a sale-to-list premium of 0.53 percent. For a $500,000 house, that means you could make $2,650 more just by listing on a Wednesday instead of a Sunday.
Thursday's Speed and Certainty Advantage
For speed, Thursday had a clear advantage, with Thursday-listed homes finding buyers five days faster than the baseline. Homes listed on Thursday also had the edge as far as being more likely to be sold within 90 and 180 days.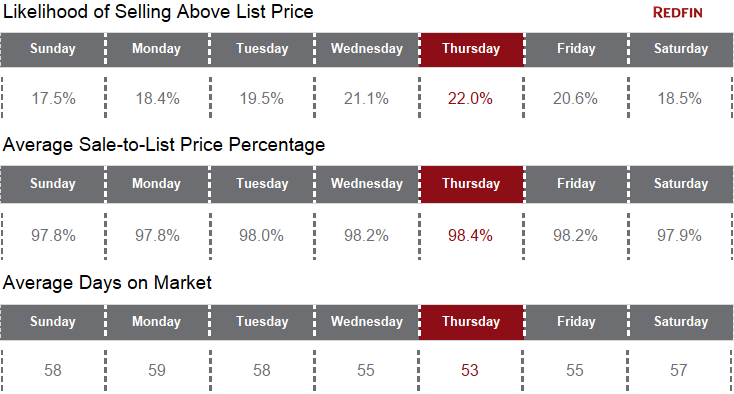 Homes listed toward the end of the work week, when buyers are preparing for their weekend of home touring and open-house hopping, tend to fare the best overall. Nearly 30 percent of homes go up for sale on Saturday, Sunday or Monday, the worst days of the week when it comes to fetching a premium price. Sunday has the worst track record, with homes going for above asking price only 17.5 percent of the time.
Whatever you do, don't list on a Monday in January. They're the worst days of the year if you want to get the best price.

Good Luck and Happy Selling!



Source: www.redfin.com